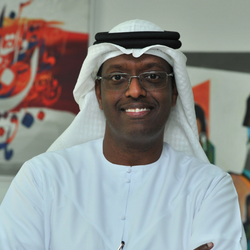 Hani Al Zubaidi
CEO
Make A Wish Foundation
CEO, "Make a Wish" Foundation, UAE
Hani Al-Zubaidi, CEO of "Make a Wish" Foundation UAE has a strong personality who believes in the power of self-motivation, continuous and persisted training to reach success in all businesses' levels. He is highly trained, self-motivated, high caliber individual with the astute presentation, negotiation, and closing skills. Al Zubaidi also possesses senior-level expert and leader skills as a specialized in leading charitable organizations, with practical experience in charitable fields, humanitarian and relief operations.
Through his long career in the charitable field, Al-Zubaidi has acquired a strong and solid understanding of the basic principles of charitable fundraising structure, as well as sales, marketing, media and communications, planning, team building and quality assurance.
Al-Zubaidi has a solid scientific and practical experience, as he obtained a Bachelor's in Financial and Banking Studies in 2011 from Abu Dhabi, capital of the United Arab Emirates.
In December 2012, he started his career with "Make a Wish" Foundation UAE after he was chosen by the wife of HH. Dr. Sheikh Sultan bin Khalifa bin Zayed Al Nahyan, the Advisor to His Highness the President of the United Arab Emirates, HH. Sheikha Shaikha bint Saif Al Nahyan, to work for the position of "CEO" for the Foundation in Abu Dhabi and Dubai, to lay down its strategic plans and achieve its humanitarian goals represented in introducing joy and happiness into the hearts of children with diseases that threaten their lives, and supporting the efforts of the UAE to occupy the first position in the world in the continuous giving and humanitarian efforts that are represented in all forms of supporting the children of the world.
His pioneering efforts in the humanitarian field started with the position of "Fund Raiser Assistant" with the UAE Red Crescent - Abu Dhabi between the years 2002-2005, and then worked hard to lend a helping hand and contribute to the noble humanitarian march through the position of "Financial Development & Marketing Director" In May 2005 until November 2007, with Life for Relief and Development - Dubai, where he promoted to the position of "Regional Director" in December 2007 with the Authority until December 2012.
The great and distinguished humanitarian efforts must be rewarded and appreciated, as the awards and certificates of appreciation that Al-Zubaidi received in the humanitarian affairs that were accomplished include: DIHAD Certificate 2011, Zayed Giving variable conferences Certificates 2009, 2010, 2011. Islamic Affairs & Charitable Activities Department award for 2008. Life for Relief and Development employee of the year 2008.
Hani Al-Zubaidi's efforts were not limited to official work, as he has been a representative of the United Arab Emirates Foundation since 2008, OIC-ICHAD UAE representative since 2011, International Corporation Consultant (MEDAD).
At last but not least, we are proud that he is since (2004 until present) still working as freelancer with Local Charity & Humanitarian Consultant & Trainer for local & international NGOs.
Back to Speaker List