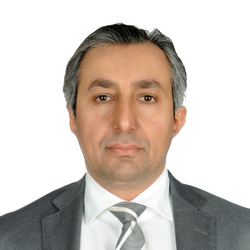 Hani Khabbaz
Director General
Syria Recovery Trust Fund
Hani Khabbaz has been the Director General of the Syria Recovery Trust Fund (SRTF) since June 2014. Established in 2013, by Germany, the United Arab Emirates and United States, the SRTF is a multi-donor trust fund that finances projects inside Syria to alleviate the suffering of the Syrian people. It has fourteen member states, including 12 contributing donors, Turkey and Jordan as host countries, and the German Development Bank (KfW) as the Trustee of the SRTF. To date, donor funding to the SRTF exceeds USD 345 million and has served over ten million beneficiaries from projects in number sectors, including Agriculture, Food Security, WASH, Access to Finance Electricity, Health, Education, and Solid Waste in hundreds of communities throughout six governorates in Syria.
Mr. Khabbaz holds a BSc. in Mechanical Engineering and is certified in information technology and business management. He has more than twenty years of experience in senior management and business consulting positions.
As a Syrian national, he is an energetic and successful leader with a deep understanding of complex stabilization and recovery issues in conflict and post-conflict environments, as well as longer-term development issues in Syria and the region.
Prior to starting a Technology and Business consulting practice in 2002, Mr. Khabbaz was a Regional Director for Arthur Andersen. In August 2011, as the crisis in Syria unfolded, Mr. Khabbaz began providing relief and aid to the Syrian people. between April 2012 and May 2014, he dedicated himself to mitigating the suffering of his compatriots. He was instrumental in the creation of the Assistance Coordination Unit (ACU), a quasi-Syrian opposition government entity based in Turkey, and led its Jordan office through the coordination and delivery of humanitarian assistance for millions of Syrians inside Syria and in neighboring countries.
Back to Speaker List